CII All-on-4® treatment concept, Trefoil™ & Full Arch Immediate Loading Course
CII Registration , San Diego
Course duration
Start date: Aug 17, 2020
End date: Aug 22, 2020
course overview
This 6 days comprehensive All-on-4® treatment concept and Full Arch Immediate Loading LIVE patient program cover the treatment planning, the surgical, the prosthetic and the laboratory phases of the full arch immediate load prostheses for edentulous patients and those with terminal dentition. 
Each participant will surgically treat two All-on-4® treatment concept immediate loading cases. 
Also, attendees will be observing and participating as a group in a few immediate restorations of full arch immediate loading cases covering both the direct and indirect method of this procedure. 
The laboratory protocols will be extensively covered during the program as well.
Curriculum Highlights:
- Evidence-based proven protocols for the proper treatment planning for the full-arch immediate loading including treatment planning for All-on-4® treatment concept
- Learn how to properly place the implants in the All-on-4® treatment concept configuration
- Learn how to take an open tray and closed tray impressions for the All-on-4® treatment concept prosthetic solutions
- Learn how to do the bite registration
- Learn Prostheses design 
- Biomechanics for the All-on-4® treatment concept
- Learn the All-on-4® treatment concept occlusion 
- Learn how to fabricate provisional and permanent prosthetic options 
- Learn how to deal with possible All-on-4® treatment concept complications 
- Hygiene requirement and protocol for long-term success 
Read more
course details
Course level: Fundamental courses
Language: English
Course duration (days): 6
CE credits: 48
Course fee:
Max. participants: 20
speakers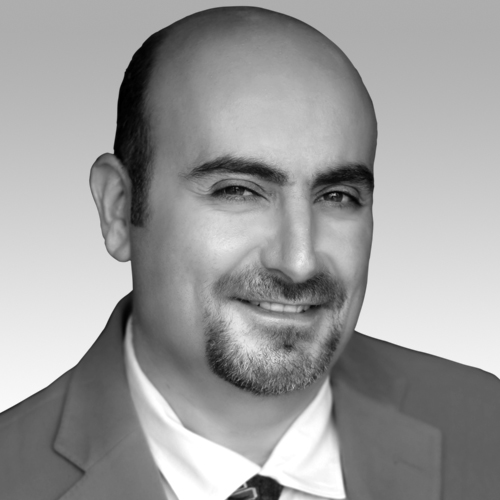 Louie Al-Faraje
Dr. Louie Al-Faraje literally defined and authored the art of Oral Implantology. As a leading authority, he created many classifications and techniques, the standards by which oral implantology surgical procedures can be successfully performed. His name has become synonymous with results-oriented oral implantology treatments around the world. A highly experienced clinician, educator and innovator, Dr. Louie Al-Faraje is continually advancing the protocols for oral implantology surgical treatments. His California Implant Institute in San Diego, California utilizes today's most innovative and effective clinical solutions to create and maintain optimal oral health using dental implants and bone grafting procedures.
Additionally, he is a board-certified, practicing oral implantologist in San Diego California, as well as an author and educator, who presented hundreds of lectures and trained hundreds of dentists throughout the world.
Dr. Louie Al-Faraje received his medical education at Kiev Medical School/ faculty of Stomatology and followed by postdoctoral training at Loma Linda University in California.
He is the author of a bestseller textbook "Surgical Complications in Oral Implantology" published by Quintessence 2011
and available in 7 languages, "Oral Implantology Surgical Procedures Checklist" Quintessence 2012, "Surgical and
Radiologic Anatomy for Oral Implantology" Quintessence 2013 and is on the editorial board of the journal of Oral Implantology (JOI).
View more
Course duration
Start date: Aug 17, 2020
End date: Aug 22, 2020
contact details
If you have any questions regarding this course, please contact us using the following details:
CII Registration
Rosarito, Mexico
California
San Diego, 92111
Get directions