All-on-4® kurzus dentálhigiénikusoknak (Április 12-13.)
Hilton Budapest , Budapest
Course duration
Start date: Apr 12, 2019
End date: Apr 13, 2019
course overview
Az angol nyelvű kurzus mellé szinkrontolmácsot biztosítunk. 

Az implantációs fogászat folyamatos fejlődése, az új anyagok és új módszerek megjelentése, valamint a fogászati implantátumokkal kezelt páciensek hosszabb élettartama az orvosok folyamatos képzését igényli, mivel csak így tudnak megfelelni az implantátummal rögzített fogpótlások jelentette kihívásoknak. Feltételezve, hogy minden implantátummal rögzített fogpótlás élettartama során karbantartást igényel, és hogy a karbantartási szakasz ugyanannyira fontos, mint a műtéti szakasz, szükségessé vált kifejleszteni egy epidemológiai és műszaki szempontokkal megtámogatott klinikai irányelvkészletet, amely nemcsak az osszeointegrációkor, hanem a hosszú távú karbantartás során is maximalizálhatja a fogpótlások sikerességének valószínűségét. Ebben a dentálhigiénikus szakembernek kulcsfontosságú szerepe van.

A jelen tanfolyam célja, hogy a résztvevőknek elméleti és gyakorlati képzést nyújtson az implantátummal rögzített fogpótlások karbantartásával kapcsolatban. Átfogó ismeretanyagot kíván átadni, amely kiemelten foglalkozik a klinikai munkával, szem előtt tartva mind az orvos, mind a páciens érdekeit. Ennek a célnak az eléréséhez a tanfolyamot egy jelentős gyakorlati résszel is kiegészítettük, amely részletesen bemutatja a klinikai eljárást, tanácsokat nyújt a teljesítmény fokozása érdekében, valamint epidemológiai eszközöket is a klinikai döntéshozatali folyamat támogatására.
Read more
course details
Course level: Fundamental courses
Language: English
Course duration (days): 2
Course fee:
Max. participants: 25
speakers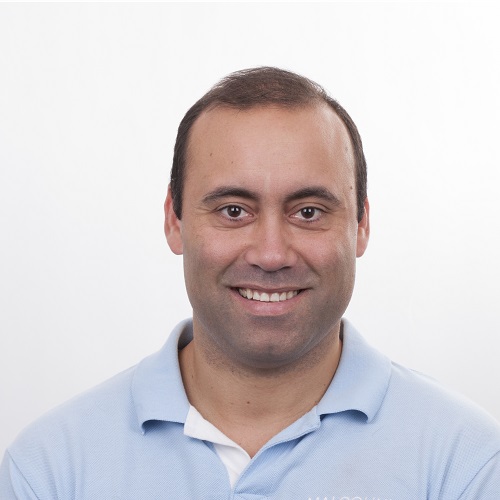 Miguel Nobre
Miguel de Araújo Nobre is Head of the MALO CLINIC Research & Development Department since 2002, also being Head of the Oral Hygiene Department at the Lisbon clinic since the same date. Graduated in Oral Hygiene by the ISAVE – Institute of Higher Education of Alto Ave – and with a Master degree in Epidemiology by the Faculty of Medicine of the University of Lisbon, Miguel de Araújo Nobre joined the MALO CLINIC team in 1999. Being a key reference speaker in Implant Maintenance, Miguel de Araújo Nobre has presented in several national and international trainings and conferences under this topic. He is also author and co-author of over 50 scientific articles, as well as clinical articles and book chapters in Oral Rehabilitation and Implantology.
View more
Course duration
Start date: Apr 12, 2019
End date: Apr 13, 2019
contact details
If you have any questions regarding this course, please contact us using the following details: